Flash 2000
Combustion NC Soil Analyzer
---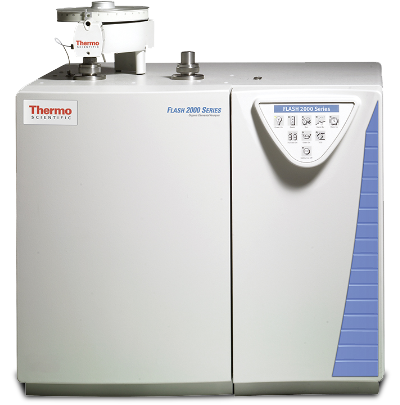 Thermo Scientific FLASH 2000 NC Analyzer (formerly the Flash EA1112) delivers rapid, precise and environmentally friendly determinations of nitrogen and carbon in geological and agriculture materials. The Flash is capable of determining nitrogen and carbon in geological and agriculture materials such as soils, sediments or particulate materials obtained by filtration of sea, river, lake, or tap water. This easy-to-use, comprehensive instrument is ideal for geology and environmental agronomy laboratories, as accurate determination of carbon and nitrogen ratios provide these laboratories with a powerful tool to check on material variations due to natural mutations or pollution.
Details
The Thermo Scientific FLASH 2000 is based on the well-known process of Flash Dynamic Combustion, which produces complete combustion of the sample followed by an accurate and precise determination of the elemental gases produced.
Suitable for organic or inorganic samples the oxidation reactor reaches a temperature of 1800°C, allowing complete conversion to elemental gas of even those samples containing refractory material and converts compounds to gas without use of dilution, gas chamber, gas sampling valve, splitting, or purge and trap pathway, operations which could introduce deviations or errors. The Flash NC SOIL provides a quick analytical cycle; rapid methodology requires less than 6 minutes for a complete sample characterization and is upgradable to automatic simultaneous determination of Nitrogen/Carbon/Sulfur or Sulfur only; TOC after off-line sample pretreatment.
Local Area Network connection
Wide detection range from 100 ppm to 100%
Minimized maintenance downtime
Highest sample throughput either for solid and liquid samples
Does not involve any toxic or polluting substances
Powerful, fully digital instrument control and data handling software
Featured Benefits
Automated 24/7 operation
Analytical conditions remain stable for months
Accurate and precise results
State of the art Thermo Scientific Eager Xperience Software
Ease of use
Low cost per sample
Complies with official methods
Wide range of applications
Direct Liquid Sample Injection possible with the AS3000 or AI3000 Liquid Autosampler