FlashSmart
CHNS/O, NC, N/Protein Analyzer
Food Safety, Agronomy/Marine Science, Environmental, Material Characterization, Organic Chemistry, Pharmaceuticals, Petro-Chemistry and Energy.

---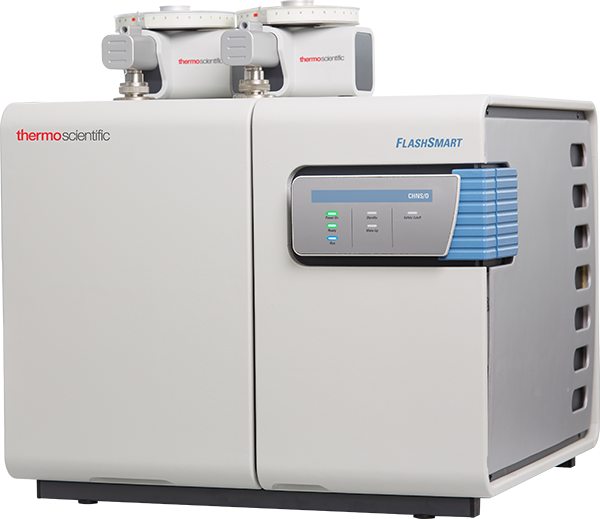 More than 50 years of experience (going back to the days of Carlo Erba Instruments) formed the basis for the design of the Thermo Scientific FlashSmart Series, resulting in an instrument with unparalleled accuracy and reliability. The simplicity of the analyzer layout and the flexibility to change the analytical configuration make it possible to modify the analyzer at any time to accommodate an extended range of market applications for CHNS/O analyses.
Details
The Thermo Scientific FlashSmart (formerly the FLASH 2000) is the perfect fit between innovation and tradition. As a modern and compact analyzer designed for unattended and fully automated operation in Nitrogen through CHNS/O modes in any type of sample, FlashSmart is a simple, precise and cost-effective tool for any laboratory. The ability to switch from CHN or CHNS to Oxygen without powering down to reconfigure, excellent accuracy and reproducibility and ease of use are the most visible results of the technological innovations packaged into this analyzer.
Accurate, simultaneous CHNS determination
Versatile, precise oxygen determination
Easy switching between CHNS and Oxygen modes without shutting down
Innovation focused to reduce analysis costs
Endorsed by International Official Organizations
The ideal companion to Isotope Ration Mass Spectrometer
FlashSmart offers a wide range of solutions supporting different analytical requirements. The analyzer is available in various configurations, however the simplicity of the instrument layout and the continuous flow design make it possible to modify the analyzer at any time to accommodate the most diverse market applications.
Local Area Network connection
Minimized maintenance downtime
Highest sample throughput either for solid and liquid samples
Powerful, fully digital instrument control and data handling software
Featured Benefits
Automated 24/7 operation
Analytical conditions remain stable for months
Accurate and precise results
State of the art Thermo Scientific EagerSmart Software
Ease of use
Low cost per sample
Complies with official methods
Wide range of applications
Optional Multi-Valve Control (MVC) for automatic switching from CHN or CHNS to O analysis
Direct Liquid Sample Injection possible with the AS1310 or AI1310 liquid auto-sampler